Refurbished CT Simulators
CT simulators are an important component of any radiation oncology facility, providing 3D images and detailed information on tumors, tissue, organs and bones that are used to develop tailored treatment plans.
Because the usage of CT simulators is relatively low compared to linear accelerators, purchasing a pre-owned, refurbished CT simulator is a great way to reduce costs without impacting patient care.
At Radiology Oncology Systems, we provide a range of pre-owned CT simulators to fit your clinical, budgetary and technology requirements.
When you buy a refurbished CT simulator from ROS, you get:
Large selection of pre-owned, refurbished CT simulators from all major manufacturers, including Large Bore (also referred to as Big Bore and Wide Bore) options
Reliable, quality equipment that has undergone a rigorous inspection by factory-trained engineers
Accessories including flat table tops and patient positioning laser systems
Refurbishment options to ensure your machine is "like new"
Full range of services to assist with preparing your site and installation of the equipment
An experienced project management team to support you throughout every step of the process
Global network of best-in-class engineers to inspect, install, test and service your equipment
Assistance with relocation, removal or disposal of existing equipment
Training of your staff on the operations/applications of your new equipment
Flexible warranty, service and maintenance options
CT Simulators from Top Manufacturers
Choose from our selection of pre-owned, refurbished CT simulators from the world's leading manufacturers.
Related Accessories
We offer a comprehensive selection of accessories and parts available for your CT simulator.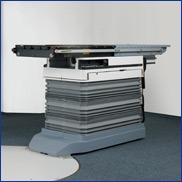 Let's Discuss Your Needs
Take advantage of our industry knowledge and product expertise to help you make an informed, educated decision about which CT simulator is right for you.