Refurbished PET/CT Scanners
PET/CT scanners combine two unique imaging modalities— positron emission tomography (PET) and computed tomography (CT) — to provide unsurpassed diagnostic capabilities to patients. The PET/CT scanner is used to identify a variety of diseases including many types of cancers, heart disease, gastrointestinal, endocrine, neurological disorders and other abnormalities within the body.
Whether you need a mobile or fixed PET/CT scanner, ROS's experienced team can help you select a quality, refurbished machine that allows you to provide life-saving services to your patients while working within your facility's budget.
When you buy a refurbished PET/CT scanner from ROS, you get:
Large assortment of pre-owned, refurbished PET/CT scanners from leading manufacturers
Mobile or fixed system options available
Reliable, quality equipment that has undergone a rigorous inspection by factory-trained engineers
Full range of services to assist with site planning, construction and installation
Dedicated project management team to support you throughout every step of the process
Which PET/CT Scanner is Right for You?
Explore our pricing guide to help you select the PET/CT scanner that's right for your facility.
PET/CT Scanners from Top Manufacturers
Choose from our selection of pre-owned, refurbished PET/CT scanners from the industry's leading manufacturers.
Related Products
We offer a variety of refurbished parts to help you upgrade and extend the life of your PET/CT scanner.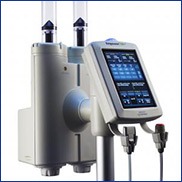 Let's Discuss Your Needs
Take advantage of our industry knowledge and product expertise to help you make an informed, educated decision about which PET/CT scanner is right for you.